In the Lending Library: PowerPoint in One Hour for Lawyers
Preparation is key, however, all the preparation in the world paired with a horrible presentation could end in a disaster. It's important to understand how to use PowerPoint .PowerPoint in One Hour for Lawyers offers practical advice for creating effective presentations quickly and easily. PowerPoint expert and attorney Paul Unger will help you avoid mishaps and develop a compelling presentation using storyboarding techniques. In just one hour, you'll learn how to take your presentations to the next level with these new skills: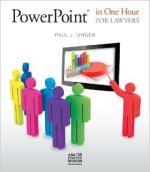 Create and edit PowerPoint slides
Incorporate graphics, animations, photographs, clip art, and more
Use color and shapes to enhance your message
Insert other file formats (PDF, Excel, etc.) into a presentation
Include video and audio components
Create time lines
Deliver an effective presentation by using the author's tips and tricks
Present your materials with an iPad
And much more!
The Lawyers Mutual Lending Library is a free service for policyholders, offering books on subjects such as law practice management, technology in the law office, rainmaking, and client relations. Check out this and many other titles at http://www.lawyersmutualnc.com/risk-management-resources/book-lending-library.