In the Lending Library: Cloud Computing for Lawyers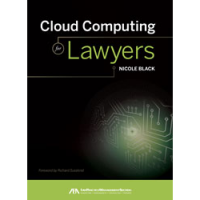 As more businesses move their IT systems into the cloud, lawyers need to ask if cloud computing is right for their firm. Cloud Computing for Lawyers features a discussion of cloud computing fundamentals, an overview of legal cloud computing products, and step-by-step instructions for implementing cloud computing in your practice--including practical tips for securing your data. This book will help you:
Understand the current state of cloud computing technology
Weigh the risks and benefits of cloud computing
Evaluate legal cloud computing applications like law practice management, billing, time tracking, e-mail, and e-discovery software
Consider the ethical considerations of storing client data in the cloud
Maintain security and privacy for your online data
Cloud Computing for Lawyers will be an essential resource for attorneys seeking to make an informed decision about adopting cloud computing in their practice.
The Lawyers Mutual Lending Library is a free service for policyholders, offering books on subjects such as law practice management, technology in the law office, rainmaking, and client relations. Check out this and many other titles at http://www.lawyersmutualnc.com/risk-management-resources/book-lending-library.