From the President's Desk: Lawyers Mutual Year In Review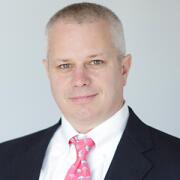 In the late 1970s, the lawyers' professional liability insurance market was in turmoil – carriers were doubling, tripling and quadrupling rates, or altogether exiting the market. In January 1977, the North Carolina Bar Association's Insurance Committee met with the Insurance Commissioner to discuss the feasibility of forming a mutual insurance company. By September, Lawyers Mutual was chartered. Once the need arose, the response was swift.
It's hard to believe all that happened in 1977 and this year we celebrate 40 years of continuous service to North Carolina attorneys. As we look back, we must recognize the importance of vision and trust.
Our founders, all members of the North Carolina Bar, had the vision to create a mutual insurance company. Why is this important? Because, as a mutual insurance company, our sole obligation is to our policyholders. We are not concerned with competing shareholder interests or short-term financial pressures driven by shareholder or market expectations. Rather, we have always been laser-focused on you and made decisions that we believe to be in your best long-term interests. Our goal has always been to ensure that Lawyers Mutual is here for you today. It is our founder's vision that helps ensure we will be here for generations to come.
Trust has played an equally important role. Trust is the foundation of lasting relationships. As such, it is the foundation of Lawyers Mutual and our success. Can you imagine being asked to contribute up to $700 (almost $3,000 today) to capitalize an insurance company, knowing there is a good chance that money may never be returned? Back in 1977, over 1,400 lawyers contributed capital. Those lawyers trusted our founders and our mission. If not for that trust, we would not be here today.
Thank you for trusting us to do the right thing for you for the last 40 years and giving us the opportunity to earn your trust each day. We look forward to celebrating many more anniversaries and to a bright and bold future.
View our 2016 Annual Report here.