For First Time Ever, ABA is Led by All-Women Team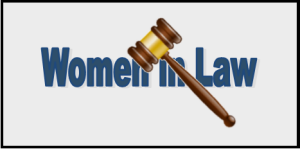 One of the two major party nominees for President was the first chair of the ABA's Commission on Women on the Profession. Can you guess who it is?
If you said Hillary Clinton, congratulations. In 1987, she took the helm of the newly-created commission. During her tenure, the group launched a number of initiatives that continue today.
One notable achievement: "Lawyers and Balanced Lives," a research guide for law firms and female attorneys on sexual harassment, parental leave, alternative work arrangements and other issues that had not previously been addressed in a comprehensive way.
But much work remains, says one former commission chair.
"Simply, put, the pace of progress for the women in the profession has been far too slow, and we have been far too patient in accepting the status quo," says Philadelphia attorney Roberta D. Bobbi Liebenberg. "So women still are expected to be assertive but not unduly aggressive, be competent but not be perceived as bragging, and to speak up at meetings, but not too much. In other words, women always face the Goldilocks dilemma of having to act just right.
All in all, it has been a good year for women in the ABA. At its annual meeting in August, the organization installed – for the first time in its history – an all-women slate of officers:
Linda A. Klein, President (2016-2017)
Paulette Brown, Immediate Past President (2016-2017)
Deborah Enix-Ross, House of Delegates Chair (2016-2018)
Hilarie Bass, President-elect (2016-2017)
Mary T. Torres, Secretary (2014-2017)
Mary L. Smith, Secretary-elect (2016-2017)
Michelle A. Behnke, Treasurer-elect (2016-2017)
Five Lawyers Who Made a Difference
A highlight of the ABA conference was the announcement of the five recipients of the Margaret Brent Women Lawyers of Achievement Award.
Ginger Ehn Lew (Bethesda, MD). Her 40-year law career in government and private practice includes a stint as deputy administrator and COO of the U.S. Small Business Administration, where she advocated for loans and business opportunities for women and minorities, and general counsel for the U.S. Department of Commerce, where she brought women to the table in trade negotiations. She was on the transition teams for President Clinton and President Obama.
Roberta D. Liebenberg (Philadelphia, PA). The first female law review notes editor at Catholic University in DC commuted by bus each weekend to her home in Richmond. "I would travel back and forth between Washington and Richmond, my daughter Julie in a snuggly, my hands full with a diaper bag, suitcase and books. Trust me, there is nothing like riding a Greyhound bus four hours roundtrip with a baby to teach you grit and tenacity." After clerking at the 4th U.S. Circuit Court of Appeals, she began interviewing at law firms, where one partner asked if she would cry if a judge yelled at her. "Would it help the client? Because I can do that," she said. She went on to start the first woman-owned firm in Philadelphia, where she practiced class actions, antitrust and commercial litigation. She was co-lead counsel for the plaintiff in the landmark Urethanez Antitrust Litigation and on the team that won a $1.06 billion judgment against Dow Chemical Company—the largest-ever price-fixing award.
Nancy E. O'Malley (Alameda, CA). She rose from being a line prosecutor in the Alameda County District Attorney's office to becoming its first woman DA. She is a national leader on issues of violence against women, elder abuse, child abuse and domestic violence. In 2009, she launched what has become a national model for battling human trafficking: Human Exploitation and Trafficking Watch (H.E.A.T. Watch). She stood beside Vice President Biden when he announced $86 million in federal funding for the Sexual Assault Kit Initiative.
Judge Judith W. Rogers (Washington, DC). One of just 15 women in her Harvard Law class, she became the first corporation counsel for the District of Columbia and served on a Justice Department team that created the first court system in the district. She was later nominated by President Reagan to the DC Court of Appeals, where she became the court's first chief judge. In 1994, she became the fourth woman and first African-American woman on the U.S. Court of Appeals for the D.C. Circuit.
Judith A. Scott (Washington, DC). After graduating from Northeastern Law School in the mid-1970s, she became a union lawyer — at the time a male-dominated field. She went on to become the first woman general counsel at two international labor unions – the International Brotherhood of Teamsters and, for close to two decades, the Service Employees International Union – in addition to serving as in-house counsel for the American Federation of State, County and Municipal Employees and the United Mine Workers of America.
What challenges lie ahead?
"We need many more men to step up as advocates and sponsors for women lawyers," says Liebenberg.
Sources:
ABA Journal http://www.abajournal.com/news/article/new_roster_of_aba_officer_nominees_sends_a_message_about_the_importance_of