Facts About Employment Practices Liability Insurance Coverage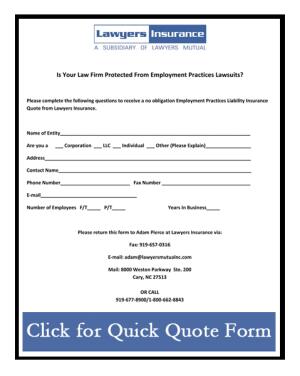 The truth is you are now more likely to have an employment practices claim than a property claim. Employment related lawsuits continue to rise. In 2011, the U.S. Equal Employment Opportunity Commission reported almost 100,000 – the highest year yet, according to the Equal Employment Opportunity Commission. These statistics do not include the staggering number of claims filed with state and local agencies.
No organization is immune to an employment practices claim. A common misconception is that only larger companies have an exposure to employment related claims when in fact over 40% of claims are against firms with fewer than 100 employees. According to the 2010 edition of "Jury Award Trends and Statistics," the average settlement for discrimination litigation was $140,338 and the average jury verdict was $991,486 in 2009.  Defense costs alone could cripple a small business.
Take steps to protect your firm. Implement an employee handbook if you don't have one. Your handbook should include policies and procedures that address items such as sexual harassment, discrimination, equal opportunity and disabled employees and accommodations. For assistance with creating your employee handbook, consult Lawyers Mutual's "Office Procedures Manual". Additionally, use an employment application and conduct an annual written performance evaluation for every employee.
For financial protection, you can purchase Employment Practices Liability Insurance. Aside from the peace of mind you will receive, some companies offer valuable resources to help you make sure your firm is preventing these losses from occurring. For example, one well-known EPL insurer offers the following free of charge to their customers:
Call-in help line for general questions to a national employment law firm;
Interactive sexual harassment training for your employees; and
Sample employee handbooks which you can tailor to your firm.
Adam Pierce, AAI, is the director of P&C Operations at Lawyers Insurance Agency. For more information, contact Adam at 800-662-8843 or adam@lawyersmutualnc.com.