Don't Choke: Tips for a successful business dining experience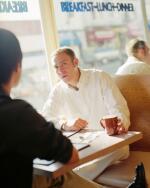 Your resume was flawless, so you didn't find it at all surprising when you received a call requesting an interview. However, you may not have been expecting the interview to be conducted over lunch or dinner. If the thought of toggling your brain between salad forks and selling yourself as the best candidate for the job stresses you out; have no fear. Here are a few business dining tips to get you through that dinner interview.
Dress for success
Let's start with professional dress as this seems to be a concept people struggle with. Keep in mind that you are not going out to a casual dinner with a friend; it's an interview. You should dress as if you're going into the firm to sit in an office or board room for the interview. A suit is always appropriate unless you are specifically told otherwise. Remember: the interview starts as soon as you enter the restaurant.
There are some rules that never go out of style. Pay attention to details such as polished shoes, clean handbags and no torn or ragged hems on pants. Show no straps, no visible underwear and wear an appropriate skirt length.
Remember, first impressions are everything. The interviewer may not remember your list of accolades verbatim, but they will definitely remember the untucked shirt and hot pink mini skirt. The way you present yourself will set the tone for the interview; dress for success.
The dish on business dining
As soon as you are seated, remove the napkin from your place setting and place it in your lap. If you excuse yourself from the table, loosely fold the napkin and place it beside your plate rather than leaving it in your chair.
Wait until everyone is served at your table before you begin to eat. Use the silverware farthest from your plate first. The salad fork will be to your far left, followed by dinner fork. Your dessert fork may be next or it may appear at the top of your dinner plate. Once used, your utensils should rest on the side of your plate rather than on the table. To signal that you are done with the food course, rest your fork, tines up, and knife blade in, with the handles resting at five o'clock and tips pointing to ten o'clock on your plate. Unused silverware is left on the table.
Food is served from the left and dishes are removed from the right. Butter or other spreads should be transferred from the serving dish to your plate before spreading or eating. Pass the bread basket and other food from the left to the right. Your bread plate will be located to the left of your dinner plate and your glassware located to your right. It is considered rude to add salt and pepper before tasting your food. Cut only a bite or two of your food rather than cutting your entire steak. Do not push away dirty dishes or stack them. Leave plates and glasses where they are for the waiter to remove.
Professional success depends not only on your academic skills, but the ease with which you can enjoy a professional lunch or networking event. For more information on manners and etiquette, view websites such as Emily Post, The Original Tipping Page or read the Complete Guide to Executive Manners by Letitia Baldrige.
Camille Stell is the Vice President of Client Services for Lawyers Mutual. Camille has more than 20 years of experience in the legal field and has learned many lessons in etiquette from reaching for the wrong napkin at networking events.  Contact Camille at camille@lawyersmutualnc.com or 800.662.8843.
Monisha Yowell is the Marketing Coordinator for Lawyers Mutual. Monisha connects Lawyers Mutual with our insureds and the legal community through the use of social media. You can reach Monisha at 800.662.8843 or monisha@lawyersmutualnc.com.