Connecting Smart Attorneys: How Using Project Attorneys Can Help Your Law Firm Survive--and Thrive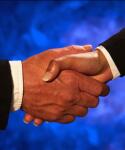 It's likely that you are one of the nearly 70% of lawyers in private practice who have a solo practice or work in a small firm (stats from a 2012 report by the ABA.) And if you are in a solo or small practice, we're willing to bet you have some of the same concerns as others like you. Perhaps there is never enough time to actually practice law with all the other jobs you have to do to keep a small business running. Maybe you struggle to find and maintain the right clients or you could use more strategies and efficiencies to help keep you competitive. As a small firm you probably feel like you are constantly putting out fires, working longer and harder, and putting off the difficult tasks like hiring and marketing.
Maybe it's time for a different perspective and a new way forward. Outsourcing work--something BigLaw and other businesses do all the time--can be a game-changing strategy for a small firm. And while it's not necessarily a new strategy, for many solos, it can be one that seems daunting. It doesn't have to be, however, and thinking like an entrepreneur can be the way for you to move from working IN your business, to making your business work FOR you.
Become a Full Service Law Firm
Are you looking to grow your firm but not yet ready for a full-time employee?  Hire a freelance attorney as an independent contractor. Freelance attorneys can provide expert service in an area of law in which you aren't as familiar. When a client comes to you with a case in an area that isn't your expertise, you can hire a project attorney with that specialty to help instead of referring the case out. Or, when you are overwhelmed by your volume of work, pass work off to a project attorney.  In fact, even if you aren't overwhelmed by your volume of work but instead you need more work --pass off what you can to a project attorney to free yourself up to do the networking and marketing it takes to find those new clients.
Free up some time for Rainmaking (or a nap)
Do you have time to think about where your firm is going--big picture? If not, hire a project attorney so you can stop putting out fires and take the time to write that business or marketing plan. You can also use project attorneys as an ad hoc team so that you can take on bigger clients or more complex cases. If you have a strategy to scale up, you can feel confident taking on that case that's going to need more than your current capacity can provide.  It's also possible you haven't taken a vacation in a while or spent as much time with your family as you would like. Hiring flexible help can be the solution to keep you from burning the candle at both ends (and burning out!)
Increase Your Revenue
Using contract and project attorneys can increase not only your capacity but also your bottom line. While a new hire can be a very costly decision for a small firm, using a freelance attorney can save both you and your client money. For example, if you need to file a brief that will take approximately 10 hours to complete, and pay $100 an hour to the project attorney, the job will cost you $1000. Then you can bill that freelance attorney to your client at a higher rate, say $150/hour. You make money ($500) on the job, but the rate the client pays for the freelance attorney is still less than your $250/hour rate (saving the client $1000) and everybody wins. In fact, using project attorneys makes budgeting for a case easier --it can help lower costs for a client, while increasing your revenue by making time for you to do more work at your hourly rate.
Hire Smart: Testing Ground for Permanent Staff
Hiring a full-time employee is a big risk for a small business. The wrong person can tie up critical time and resources. First, try someone out to see if they fit--hire a freelance attorney on a temporary basis before you make a full-time hire.
So, that all sounds good...but what are the Ethical issues?
First and foremost, you would want to ensure the project attorney has no conflict of interest.  Other considerations really depend on the scope of work.  For instance, if the project attorney is going to review client documents or communications, then you would want to ensure they agree to keep the information confidential to protect the attorney-client privilege. In this regard, it would be helpful to have a written agreement formalizing the relationship between you and the project attorney and setting forth the ethical guidelines that should be followed.  For more information, you can check out the ABA's formal opinion on the ethics of outsourcing legal services. See ABA Committee on Ethics and Professional Responsibility, Formal Opinion 08-451 (Aug. 5, 2008) Outsourcing Legal and Nonlegal Support Services.
Taking the LEAP! The Solo as Entrepreneur.
Okay, so how do you find these experienced, qualified project attorneys? There are some old methods and some new methods to mention. For those in BigLaw, legal staffing agencies have always been the 'go-to' for temporary work. These agencies employ their freelance attorneys and often provide a physical site for them to work. For solos and small firms, there hasn't necessarily been a formal way of finding help--some ask around for referrals from colleagues or might take out an ad with the local bar association or on Craigslist. This way usually takes some time as you sort through resumes and make follow up calls, all before you can get any work done.
Technology has provided a relatively new avenue for connecting lawyers. Like other professionals, lawyers now have technology to thank for making their work more flexible than ever. New online businesses are working to connect experienced project attorneys, who work flexibly, with good legal work and the law firms that need them. These sites range from online versions of traditional staffing agencies to businesses using technology to make a specific match. They can offer a more accessible and transparent user experience for entrepreneurial lawyers whose needs are different from that of BigLaw.
Whatever your method, hiring outside legal talent has never been easier. It's a strategy that can make you more competitive, profitable and an all around happier lawyer. For a solo or small firm, this can be a strategy that you employ right at the start to maximize your time and develop a way to handle whatever cases come your way.