5 Favorite Legal Podcasts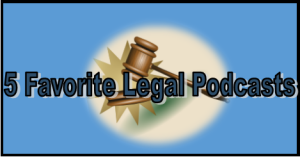 I travel across the state for work and across the county getting to my office. As a result, I spent a good deal of time listening to podcasts. Here are my favorite legal podcasts from the summer of 2017.
Sex at Work with Leto Copely and Valerie Johnson, The Law Sisters. While Leto and Valerie are not actually sisters, they have practiced law together for 20 years. Their comfortable banter and easy repartee make learning about the law a lot easier. Sex at Work is an entertaining and informative look at the world of employment law played out each week in discussions of recent scandals, cases in the news (Uber we are looking at you) and segments such as "Bad Boss of the Week". This is the Law Sisters first go at a podcast but it certainly does not feel that way.
Ear Hustle. An intriguing name, to ear hustle is to eavesdrop. Or as the Urban Dictionary says, "all up in somebody else's business without knowing the details". When you finish Ear Hustle, you know the details. Co-produced by San Quentin inmates Earlonne Woods and Antwan Williams, along with Bay Area artist, Nigel Poor, the series explores life as a prisoner inside San Quentin.
The podcast does not preach against the ills of mass incarceration or of a justice system that has glaring faults, instead, the show humanizes men who are spending decades in prison. They talk about everything from family and heartbreak to the difficulties of finding a compatible roommate.
With no training in the medium, rudimentary equipment, and boatloads of bureaucracy and red tape, Woods, Williams and Poor are becoming master storytellers and I am hooked. As I listen, I am reminded of Bryan Stevenson's quote in his excellent book on social justice, Just Mercy, "Each of us is more than the worst thing we've ever done."
Legal Talk Network. Legal Talk Network is a curated collection of podcasts featuring some of the best known names in practice management, marketing and legal news reporting. There are podcasts for law students, new lawyers, senior lawyers, in-house counsel and paralegals. This is a "must add" to your podcast feed as new content is created daily.
Divorce Discourse with Lee Rosen. Once upon a time a Raleigh lawyer, Lee is now traveling internationally while continuing to manage his law firm. Listen to hear his sometimes "tough love" advice for lawyers on technology, practice management and marketing. Lee also talks about how to work remotely and shares some of his life experiences as a digital nomad.
Bulldog Bites with Mark Enriques. Mark is a business litigator in the Charlotte office of Womble Carlyle. Bulldog Bites, featuring a handsome Winston the famous WCSR bulldog mascot, provides corporate attorneys with tips and insights from general counsel, politicians, analysts and leading business professionals. Mark's recent show about Womble's combination with the UK firm Bond Dickinson is an interesting inside look at how two firms across the pond met and fell in love.
The Gen Why Lawyer with Nicole Abboud. Nicole practiced law for 5 years before acknowledging a shocking revelation; she hated practicing law. She launched a podcast and a business, Abboud Media, where she works with lawyers to build their brands and grow their businesses. Each week, Nicole talks with lawyers who are sharing courageous stories and offering tactical advice about practicing law in unconventional ways.
Did you miss Camille's Five Favorite Summer Podcasts post? Check it out here.
If you host your own podcast or you have a favorite legal podcast you follow, please continue this conversation by reaching out to Camille at 800.662.8843 or camille@lawyersmutualnc.com.