Will Graebe Selected as Recipient of the North Carolina Bar Association Citizen Lawyer Award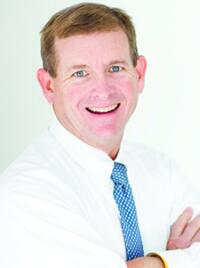 Cary, N.C. – Will Graebe has been selected as a recipient of the North Carolina Bar Association Citizen Lawyer Award. He is among a dozen lawyers honored at the NCBA Annual Convention for their contributions to their communities. Will was chosen for the work he does as chair of his church's mission committee.
More than 10 years ago, Will joined a local team focused on helping refugee families settle into the Triangle area through Lutheran Family Services. Will found his passion and he went on to design and then chair a committee at his church who provide for the homeless. They provide temporary shelter, meals, comprehensive support services, and finally move families into permanent homes. Will often uses his free time to load his pick-up truck with furniture to move these families or transport family members to job interviews or doctor appointments.
"Will's service and dedication show in everything he does.  He makes a difference not only with our insured attorneys, but in his community as well.  "As Winston Churchill so aptly said, "We make a living by what we get, but we make a life by what we give.""  "We are very proud of Will for what he does and for being recognized as a Citizen Lawyer." 
Will joined Lawyers Mutual in 1998 as claims counsel before being promoted to Vice President of Claims in 2009. He focuses his efforts at Lawyers Mutual on transactional matters and real estate. Prior to joining Lawyers Mutual, he worked at the law firm of Pinna, Johnston & Burwell. Will graduated from Stetson University and Wake Forest University School of Law.
About Lawyers Mutual Liability Insurance Company of North Carolina
Lawyers Mutual is the largest provider of professional liability insurance for North Carolina lawyers. Founded in 1977, our mission is to meet the insurance needs of the legal profession through innovative personal service and products. Today, we are doing that by offering a full range of insurance coverage for lawyers and their families, as well as continuing education and practical tools to help lawyers better serve their clients and the public. For more information, call 800.662.8843, follow us on Twitter at @LawyersMutualNC, connect on our LinkedIn page, like us on Facebook or visit us at lm2014.gethifi.com
Media Contact
Camille Stell, Vice President of Client Services
800.662.8843 or Camille@lawyersmutualnc.com