Lawyers Mutual Board Member Ronald L. Gibson sworn in as President of the North Carolina State Bar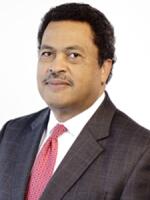 CARY, NC - Lawyers Mutual board member and Charlotte attorney Ronald L. Gibson was sworn in as President of the North Carolina State Bar by Chief Justice Mark Martin at the State Bar's Annual Dinner on Thursday, October 23, 2014.
During remarks following the swearing-in, Ron had this to say about his upcoming year of service, "As your President, I will remind lawyers and the public, that lawyers do good things that touch peoples' lives. We are engaged meaningfully in practically every aspect of our society, in business, in government, and in all facets of the administration of justice.
Lawyers act honestly and ethically for the benefit of our clients. Yet, we let our noble profession be denigrated by caricatures of ourselves.
The role of lawyers in our civilization is embodied in the Bill of Rights and lawyers and judges are at the forefront of protecting our Constitutional rights.
We should take pride in who we are and what we do. As I travel the State, I will talk to every lawyer who will listen to me about the need for lawyers to take pride in and defend our profession."
Gibson's remarks followed the swearing-in of Mark W. Merritt as Vice President and Margaret M. Hunt as President Elect. Ronald G. Baker presided over the evening as he completed his year of service as President.
Lawyers Mutual President Dan Zureich says, "Passion, a strong sense of values, dedication and focus are essential to successful leadership, and Ron Gibson embodies each of those qualities.  We are confident he will be a success in his role as State Bar President.  Lawyers Mutual is honored to be able to count him as a board member and wishes him well in his new role."
Gibson is a proud alumnus of Davidson College and he went on to earn his law degree from the University Of North Carolina School Of Law. His experience includes serving as a law clerk to US District Court Judge James B. McMillan and serving in private law practice with Chambers, Stein, Ferguson & Becton. Gibson began a corporate career as associate general counsel and vice-president of marketing with Duke Power Company and served as a principal with Scott, Madden & Associates, a management consulting firm. He also owned an insurance and financial services agency. Gibson currently is a partner with the law firm of Ruff, Bond, Cobb, Wade & Bethune, LLP.
As a State Bar Councilor, Gibson has served as vice chair of the Client Assistance Committee and Grievance Committee, and has chaired the Administrative Committee and the Program Evaluation Administrative Subcommittee. He has also served on the Authorized Practice Committee, Executive Committee, Disciplinary Advisory Committee, Appointments Advisory Committee, Ethics Committee, Facilities Committee, and Issues Committee.
About Lawyers Mutual Liability Insurance Company of North Carolina
Lawyers Mutual is the largest provider of professional liability insurance for North Carolina lawyers. Founded in 1977, our mission is to meet the insurance needs of the legal profession through innovative personal service and products.  For more information, call 800.662.8843, follow us on Twitter @LawyersMutualNC, connect on our LinkedIn page, like us on Facebook or visit www.lawyersmutualnc.com.
About the North Carolina State Bar
The North Carolina State Bar is the state agency responsible for regulating the legal profession in the public interest and is headquartered in Raleigh.
Media Contact
Camille Stell, Vice President of Client Services
800.662.8843 or Camille@lawyersmutualnc.com