John Hester Wins Lifetime Achievement Award at the Triangle Business Journal Corporate Counsel of the Year Awards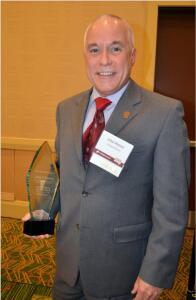 Cary, N.C. – John Hester has won the Lifetime Achievement Award at the Triangle Business Journal Corporate Counsel of the Year Award program. John was also a nominee for the Corporate Counsel of the Year Award.
In the inaugural year of the awards, the Lifetime Achievement Award was designed to recognize an individual for his body of work over a lifetime in the legal industry. John was recognized for his 40-year legal career. John was honored on April 25 along with all of the nominees.
John was licensed in North Carolina in 1975. He worked in private practice, corporate law and public service before joining Lawyers Mutual as claims counsel in 1985. He was been with Lawyers Mutual – which was the first lawyer-owned legal malpractice insurance company in the country – ever since.
At Lawyers Mutual, he helped build a Claims Department that has won national acclaim for its personal, peer-based philosophy of handling malpractice claims.
"Working every day helping other lawyers is a great feeling," says John. "I get to help them understand that everything is going to be okay. I tell them I've seen this problem before and I know how to get it resolved. I think that's a real benefit for an insurance company, not just to pay a claim but to be there to listen and help our customers."
A hallmark of John's work at Lawyers Mutual is its Claims Repair program, which emphasizes early detection and swift action to prevent problems from exploding into malpractice lawsuits. The program has a 90 percent success rate and saves the company $2 million annually.
The formation of Lawyers Mutual in 1977 by a small group of North Carolina attorneys spurred other states to create their own legal malpractice companies. Many of them turned to John for help in setting up their claims departments. New mutual insurers from Texas to Oregon began meeting regularly to share ideas and innovation. This collaboration grew into the National Association of Bar Related Insurance Companies (NABRICO), of which John has been an officer and leader for decades.
"Lawyers Mutual is grateful to have John," says Dan Zureich, President and CEO of Lawyers Mutual. "He has served the lawyers of North Carolina with compassion and distinction for more than 25 years. We are pleased to share this honor with him."
John's focus areas at Lawyers Mutual are litigation and claims repair. He graduated from North Carolina State University and North Carolina Central University School of Law. John became interested in practicing law during the filming of To Kill A Mockingbird, in which he was involved.
"For 25 years, I have enjoyed coming to work each day," John says. "I get to meet fine attorneys and help them with problems in their cases. I consider many of them to be long-time friends. Sometimes they call me years later and mention a matter we worked on together that I've long forgotten. That is truly a pleasure."
About Lawyers Mutual Liability Insurance Company of North Carolina
Lawyers Mutual is the largest provider of professional liability insurance for North Carolina lawyers. Founded in 1977, our mission is to meet the insurance needs of the legal profession through innovative personal service and products. Today, we are doing that by offering a full range of insurance coverage for lawyers and their families, as well as continuing education and practical tools to help lawyers better serve their clients and the public. For more information, call 800.662.8843, follow us on Twitter at @LawyersMutualNC, connect on our LinkedIn page, like us on Facebook or visit us at lm2014.gethifi.com
Media Contact
Camille Stell, Vice President of Client Services
800.662.8843 or Camille@lawyersmutualnc.com