John Hester Celebrates 30 Years of Service with Lawyers Mutual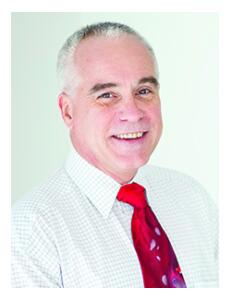 Lawyers Mutual Liability Insurance Company of North Carolina congratulates Senior Claims Counsel John Hester on 30 years of service with the company. His dedication and great service has a positive impact on the lawyers of North Carolina.
"Every day I work with outstanding attorneys throughout the state who are experiencing some problem with a matter they are handling for a client," John states. "I enjoy coming to the office every morning knowing that I will have several new matters where there are service opportunities."
John was licensed in North Carolina in 1975 and worked in private practice, corporate law, and public service before joining Lawyers Mutual as claims counsel in 1985. He has been with Lawyers Mutual –the first lawyer-owned legal malpractice insurance company in the country – ever since.
In 2013, John was awarded the Triangle Business Journal's Lifetime Achievement Award at the Triangle Business Journal's Corporate Counsel of the Year Awards. The Lifetime Achievement Award was designed to recognize an individual for his body of work over a lifetime in the legal industry.
"It is rare today for someone to reach the 30th anniversary milestone," says Will Graebe, Vice President of Claims for Lawyers Mutual. "John has shown great commitment to the lawyers of North Carolina as well as this company. We are pleased to share this achievement with him."
John focuses his work at Lawyers Mutual on litigation and claims repair. He graduated from North Carolina State University and North Carolina Central University School of Law. John became interested in practicing law during the filming of To Kill A Mockingbird, in which he was involved.
About Lawyers Mutual Liability Insurance Company of North Carolina
Lawyers Mutual, founded in 1977, is the first mutually owned insurance company for lawyers in the country. Lawyers Mutual is the only company that has provided continuous coverage to North Carolina lawyers during that time. Its reputation for leadership, professionalism and commitment to its attorneys has become a standard for other malpractice insurance providers. The mission at Lawyers Mutual is not only to protect North Carolina lawyers with the best possible financial coverage against professional liability, but also to provide education and risk management resources to help them better serve their clients and the public. 
For more information, call 800.662.8843, follow us on Twitter @LawyersMutualNC, connect on our LinkedIn page, like us on Facebook or visit www.lawyersmutualnc.com.
Media Contact
Camille Stell, Vice President of Client Services
800.662.8843 or Camille@lawyersmutualnc.com