Lawyers Mutual Launches HELP Team to Assist Attorneys in Crisis Situations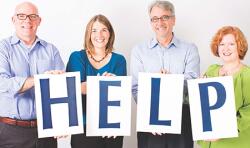 Cary, N.C. – Lawyers Mutual is proud to announce the formation of its HELP (Handling Emergency Legal Problems) Team. The HELP Team is designed to provide quick response in a crisis situation such as a medical emergency or unexpected death. Lawyers Mutual claims attorneys and outside counsel work together using their training and resources to guide lawyers through difficult times.
The HELP Team furthers the assistance Lawyers Mutual already provides attorneys through its existing programs. Risk management handouts, articles, malpractice alerts, and one-on-one counseling with claims attorneys have been a part of Lawyers Mutual's services for many years. The HELP Team adds a specialized service assisting with the worst situations.
"Helping other lawyers is the best part of my job," says Warren Savage, Claims Attorney. "It's rewarding to be a part of this program and help attorneys get the assistance they need during their most difficult time."
Visit our HELP Team page for resources to help to prepare for emergency situations.
"Lawyers Mutual has always strived to provide peace of mind to our insureds," says Camille Stell, Vice President of Lawyers Mutual's Client Services Department. "Now we have a specialized team prepared to assist when needed. We are pleased to offer this service as an added benefit to our insureds. This continues to fulfill our mission of lawyers helping lawyers."
About Lawyers Mutual Liability Insurance Company of North Carolina
Lawyers Mutual is the largest provider of professional liability insurance for North Carolina lawyers. Founded in 1977, our mission is to meet the insurance needs of the legal profession through innovative personal service and products. Today, we are doing that by offering a full range of insurance coverage for lawyers and their families, as well as continuing education and practical tools to help lawyers better serve their clients and the public. For more information, call 800.662.8843, follow us on Twitter at LawyersMutualNC, connect on our LinkedIn page, like us on Facebook or visit us at lm2014.gethifi.com
Media Contact
Camille Stell, Vice President of Client Services
800.662.8843 or Camille@lawyersmutualnc.com