Gibson Nominated as State Bar Vice President
Lawyers Mutual board member and Charlotte attorney Ronald L. Gibson was selected by the State Bar's Nominating Committee to stand for election to the office of vice president of the North Carolina State Bar. The election will take place in October at the State Bar's annual meeting.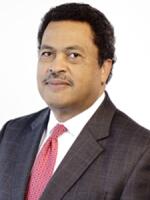 Gibson is a proud alumnus of Davidson College and he went on to earn his law degree from the University Of North Carolina School Of Law. His experience includes serving as a law clerk to US District Court Judge James B. McMillan and serving in private law practice with Chambers, Stein, Ferguson & Becton. Gibson began a corporate career as associate general counsel and vice president of marketing with Duke Power Company and served as a principal with Scott, Madden & Associates, a management consulting firm. He also owned an insurance and financial services agency. Gibson currently is a partner with the law firm of Ruff, Bond, Cobb, Wade & Bethune, LLP.
As a State Bar Councilor, Gibson has served as vice chair of the Client Assistance Committee and Grievance Committee, and has chaired the Administrative Committee and the Program Evaluation Administrative Subcommittee. He has also served on the Authorized Practice Committee, Executive Committee, Disciplinary Advisory Committee, Appointments Advisory Committee, Ethics Committee, Facilities Committee, and Issues Committee.
Lawyers Mutual board chairman Ken McAllister says, "Ron Gibson has been a recognized leader throughout his legal career, not only in Mecklenburg County, but across the State. His accolades are numerous. This recognition by the North Carolina State Bar exemplifies the high regard in which he is held by North Carolina lawyers. We congratulate Ron and the State Bar."
About Lawyers Mutual Liability Insurance Company of North Carolina
Celebrating its 35th anniversary, Lawyers Mutual is the country's first and oldest mutual insurance company established to insure attorneys. It has become a model for other state bars across the country.  For more information, call 800.662.8843, follow us on Twitter at LawyersMutualNC, connect on our LinkedIn page, like us on Facebook or visit lm2014.gethifi.com.
About the North Carolina State Bar
The North Carolina State Bar is the state agency responsible for regulating the legal profession in the public interest and is headquartered in Raleigh.
Media Contact
Camille Stell, Director of Client Services
800.662.8843 or Camille@lawyersmutualnc.com