Former Lawyers Mutual President John Q. Beard receives the John B. McMillan Distinguished Service Award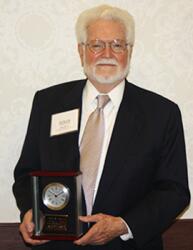 Cary, NC – Lawyers Mutual congratulates John Q. Beard, founding member and former president for Lawyers Mutual, upon receipt of the John B. McMillan Distinguished Service Award. The award was presented at the Wake County Bar Association December lunch meeting.
Beard received this award for his dedication and contribution to the legal profession. His dedication to helping the lawyers of North Carolina helped build Lawyers Mutual, a mutual insurance company dedicated solely to providing legal malpractice coverage in the North Carolina.
"John was instrumental in creating Lawyers Mutual, was a founding board member and our first president." President and CEO Dan Zureich stated. "It is in great part due to his vision and leadership that Lawyers Mutual is what it is today."
Beard was elected as Lawyers Mutual's first president, serving part-time during this period, during the June 1977 annual meeting of the North Carolina Bar Association. He helped the bar raise the $1,000,000 needed to capitalize the new company, often by calling or personally visiting lawyers, so that Lawyers Mutual could begin writing policies in 1978. 
Beard participated in the management of Lawyers Mutual throughout his career. He was elected Chairman of the Board of Directors at the 1984 board meeting. He also served as full-time president from October 1993 until his retirement in December 2001.
In addition to his work at Lawyers Mutual, Beard was an active participant in the legal community. He served as president for the North Carolina Bar Association from June 1986 through June 1987.
About the John B. McMillan Distinguished Service Award
The John B. McMillan Distinguished Service Award program honors current and retired members of the North Carolina State Bar throughout the state who have demonstrated exemplary service to the legal profession. Examples of such service include: increasing knowledge of the law and its use to benefit clients, improving public understanding of the law and justice system, assisting the legal profession through improvements to the administration of justice and quality of services, and serving in activities that improve the law or legal profession.
About Lawyers Mutual Liability Insurance Company of North Carolina
Lawyers Mutual is the largest provider of professional liability insurance for North Carolina lawyers. Founded in 1977, our mission is to meet the insurance needs of the legal profession through innovative personal service and products.  For more information, call 800.662.8843, follow us on Twitter @LawyersMutualNC, connect on our LinkedIn page, like us on Facebook or visit www.lawyersmutualnc.com.
Media Contact
Camille Stell, Vice President of Client Services
800.662.8843 or Camille@lawyersmutualnc.com