Bob Neal Recognized as Co-Winner in the Small Private Company Category at the Triangle Business Journal Chief Financial Officer of the Year Awards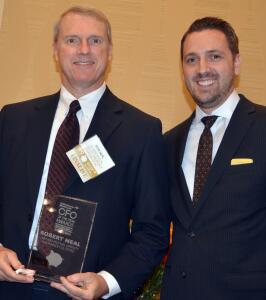 Cary, N.C. – Bob Neal has been selected as a co-winner at the Triangle Business Journal Chief Financial Officer of the Year Award program in the small private company category. The awards ceremony was held July 18, 2013.
 The CFO of the Year Awards honor the Triangle area's outstanding finance executives as corporate fiscal stewards. These outstanding performers guide their companies through a crisis while minimizing the damage done. Jeff Hunter of Novan shares the award recognition in the small private company category.
In 1990, Bob came to Lawyers Mutual with a background in insurance, auditing and accounting. He puts all those skills to use as the company's Vice-President, Treasurer and CFO. He previously worked for the CPA firm Ernst & Young and for a regional insurance and broadcasting company, Durham Corporation, which owned Durham Life, State Capital and radio stations including WQDR. Bob was the assistant vice president in charge of its internal audit department.
"Bob is a dedicated and integral part of the management team at Lawyers Mutual and has consistently enabled the Company to perform at a high level, often outperforming its peers," says June Basden of Carruthers & Roth, P.A, member of the Lawyers Mutual Board of Directors and Chair of the Finance Committee. "This company would not have the strong financial standing it has today without his leadership and talents."
Bob's co-workers appreciate his calm demeanor and broad range of expertise. On a given day he might be called upon to calculate a loss ratio, cut a dividend check or repair a laptop. When he's not balancing the books, Bob loves spending time outdoors, going to the gym and being with his family.
About Lawyers Mutual Liability Insurance Company of North Carolina
Lawyers Mutual is the largest provider of professional liability insurance for North Carolina lawyers. Founded in 1977, our mission is to meet the insurance needs of the legal profession through innovative personal service and products. Today, we are doing that by offering a full range of insurance coverage for lawyers and their families, as well as continuing education and practical tools to help lawyers better serve their clients and the public. For more information, call 800.662.8843, follow us on Twitter at LawyersMutualNC, connect on our LinkedIn page, like us on Facebook or visit us at lm2014.gethifi.com
Media Contact
Camille Stell, Vice President of Client Services
800.662.8843 or Camille@lawyersmutualnc.com