7 Ways To Avoid Being Sued By Clients You Never Know You Had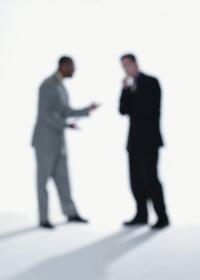 Off-the-cuff legal advice – especially in informal social settings – is rarely a good idea.
Sometimes it can lead to a malpractice claim.
Every lawyer has been hit up for legal advice at a party, youth soccer game or neighborhood cookout. These situations are usually easy to defuse. You can simply give the questioner a business card.
Or you can say, "Call me tomorrow during working hours." Or pretend to have eaten one too many hot dogs to comprehend the question.
The tougher scenario is when good clients (meaning those who pay their bills) call in a panic needing an immediate answer to an urgent question. You want to help. Perhaps you can buy some time with a bit of innocuous, generic counsel.
The biggest danger is offering half-baked, hasty advice.
It is far wiser to drop back and punt. Give yourself time to gather the facts, do the necessary research and deliver an informed opinion. Your malpractice carrier will thank you.
Here is a real-life example, courtesy of risk manager Mark Bassingthwaighte from Attorneys Liability Protection Society.
An attorney got a call from a long-term client whose airplane was in the shop undergoing renovations. The client was unhappy with the manner of repair and the amount of the bill. He wanted to go get his plane, reasoning that he would have a stronger position in the fee dispute if he had the property in his possession.
The attorney – perhaps distracted, perhaps not realizing the client would act on his advice, or perhaps just wanting to get off the phone – gave a technically correct answer: "Yes, recovery of property that you already own is not illegal." So the client went and got his plane. And was promptly arrested. And was sued in civil court for the unpaid bill. And lost. And filed a claim against his attorney for negligent advice.
To which the attorney's defense was, in essence: "But I didn't think my client was going to do that!" Which is to say, no defense at all.
7 Ways to Avoid Trouble From Informal Advice
Don't give advice in a vacuum. Context is always important. No matter what a client tells you, it is always smart to dig deeper. Review documents. Examine official records. Listen to other sides of the story.
Beware pro se litigants lurking in courthouse hallways. "Such encounters usually start with, 'Excuse me, but are you a lawyer? Can I ask you a quick question about my case?'" writes Evan S. Loeffler in the ABA's GPSolo Magazine. "The attorney listens politely, gives a quick word of advice, and then has to fend off numerous follow-up questions as the interrogator seeks a crash course on the practice of law."
Be afraid, be very afraid. Tell your golfing buddy that any advice you have to offer regarding an incredibly convoluted business transaction – based on a few garbled facts shared on the front nine – would not only be worthless, but could well be harmful.
Stick to what you know. Some people think every lawyer is expert in every area – from antitrust to zoning. A law degree is a law degree, right? Wrong. Offer referrals when appropriate.
Schedule an appointment. Doctors don't do brain surgery at Super Bowl parties. Instead of giving legal advice, whip out your calendar and set a formal appointment. This is sure to scare off many freeloaders
Don't travel to Oz. Media medical man Dr. Oz was sued by a man who burned his feet after wearing socks filled with hot rice as a sleep aid. The doctor recommended the home remedy on his television show in 2012.
Follow the rules. N.C. Rule of Professional Conduct 1.4  says in part: "A lawyer shall explain a matter to the extent reasonably necessary to permit the client to make informed decisions regarding the representation."
And remember, a defense of "My client did what?" is no defense at all
Jay Reeves a/k/a The Risk Man is an attorney licensed in North Carolina and South Carolina. Formerly he was Legal Editor at Lawyers Weekly and Risk Manager at Lawyers Mutual. He likes giving advice about how lawyers should give advice. Contact jay.reeves@ymail.com, phone 919-619-2441.
Sources: